2014 Canadian Championships – FINAL RESULTS – AUG. 16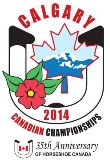 The AHPA and the Calgary Horseshoe club are proud to be hosts for the 2014 Canadian Horseshoe Pitching Championships.
They will be held from August 12 – 16 at the Calgary Horseshoe Club, 4310 78 Ave. SE Calgary, T2C 2Z5.
More information to follow.
Results day 1
Results day 2
Results day 3
Results – final